Aiden Guinnip
United States
Alexia Souvalioti
United Kingdom
Benjamin Donaldson
United Kingdom
Billy Fenton
United Kingdom
Bradley Stanley
United Kingdom
Caitlin James
United Kingdom
Caroline White
United Kingdom
Catherine Kusuma
Singapore
Clarinta Subrata
Australia
D. Benatti, F. Falcone, J. Giannitrapani, A.Papale
Italy
Daan Rietbergen
Netherlands
Dan Villalobos
United Kingdom
Dave Wharton
United Kingdom
Denny Di Pasquantonio
Italy
Didacommunicationlab
Italy
Dominik Schnabelrauch
Germany
Elise Vandeplancke
Belgium
Ella Mclean
United Kingdom
Enrico Focarelli Barone
Italy
Ernesto Lopez Montoya
Spain
Eynon Jones
United Kingdom
Eynon Jones
United Kingdom
Federico Conti Picamus
Italy
Felipe de Leonardo Figols
Brazil
Flavia Zorilla Drago
Mexico
Francesca Centonze
Austria
Francesco Zampaglioni
Italy
Giovanni Stillittano
Italy
Girivarshan Balasubramanian
India
Giulia Rossi & Rachele Tonioni
Italy
Grace J. Kim
United States
Grace J. Kim
United States
Grace J. Kim
United States
Hannah Tomlinson
United Kingdom
Harriet Lenneman
United States
Harry Wright
United Kingdom
Ignatius Ryandika
Indonesia
Ishaarah Arnold
South Africa
Jacob Rosenburg
United States
Jacopo Giannitrapani
Italy
Jean-Manuel Duvivier
United States
Lee Cattley
United Kingdom
Maddy De-Sanctis
United Kingdom
Maria Carlos Cardeiro
Portugal
Maria Giulia Chistolini
Italy
Marianne Yar Efratie
Israel
Marilu Rodriguez Vita
Spain
Mark Mones
United Arab Emirates
Miguel Ángel Navarro Pérez
Spain
Nicola Gigante
United States
Nicole Garcia
United States
Paddy Carey
United Kingdom
Peim van der Sloot
Netherlands
Rachel Frankel
United States
Reine-Marie Meuriot
France
Robert Neubecker
United States
Sanja Planinic
Bosnia and Herzegovina
Sebastião de la Guardia
Portugal
ShinYeon Moon
United States
Simona Massa
United Kingdom
Sisters Design Studio
Russia
Sophie Winder
United Kingdom
Stefania Castelletti
Italy
Stephanie Cahyadi
Singapore
Temporary Graphic Zone
Italy
Terry Mckeown
United Kingdom
Topp Notch & Catalina Velàsquez
United Kingdom
Torso Vertical
United Kingdom
Valentina Camozzi
Switzerland
Vi-An Nguyen
United States
Vittorio Perotti
United States
Xaviera Altena
Netherlands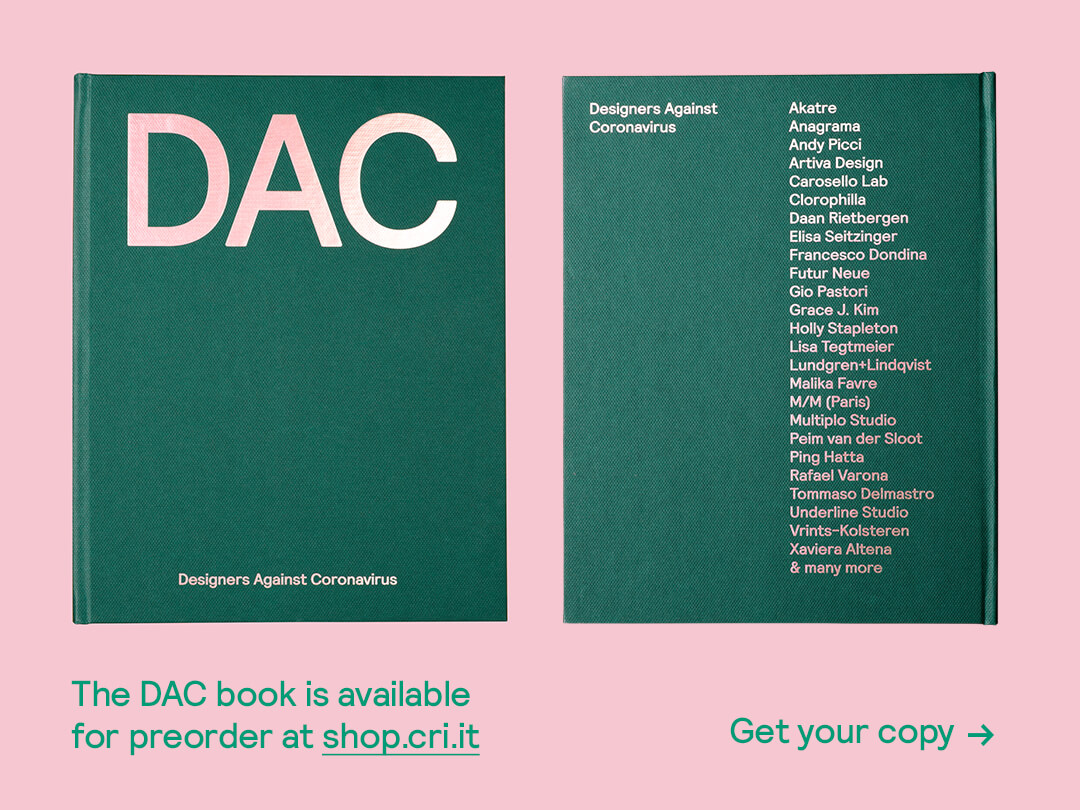 Designers Against Coronavirus is a digital archive created and curated by CaroselloLab that shows the emergency we are facing through the eyes of designers, illustrators and creative studios from all over the world.
Even a small donation makes the difference.
DAC's ultimate goal is to raise funds to fight the Covid-19 outbreak. Visit the green links below for more information and to make a donation.
Submissions
Send us your Coronavirus-related poster, illustration or artwork. We will select and feature the best ones on this platform highlighting your name, your website and a link to your instagram account. Deadline: April 13th 2020.
Design file(s) in a proper resolution (1080px wide x height) please only send .png or .jpg (if static), lightweight .gif (if animated).
Send full artwork, without borders, backgrounds or watermarks.
Your name or studio name, your Country and a short description.
Complete instagram link https://www.instagram.com/yourprofile
Submit
Share
Follow
Instagram
Info (press only, no submissions)
E-mail
A project by CaroselloLab
CaroselloLab is a brand design and communication studio from Milan. We created this platform in the hope of making our little part in the emergency. If you are enjoying it, please scroll back up and DONATE.
Concept & Direction: Enrico Caputo
Design: Kim Costantino, Marianne Yar Efratie, Riccardo Fuccelli, Alessandro Campisi
Copywriting: Iridiana Luppi
PM & Press: Federica Apa
Website Development: Gianluca Ugolini